A few weeks ago, TV Stevie and I attended the home opener for the local "minor league" hockey franchise. Like the Syracuse Chiefs, the
Syracuse Crunch
play in a county-owned facility. There was a sell-out crowd, capacity a bit over 6,000 fans. And it was loud. They had "cheerleaders" (Ice Girls), none of whom looked a day over 16.
But what struck me was the scoreboard and other lighting effects around the rink.
There are around 38 home games in the team's season. That's about half as many home games as the Chiefs play. Sellout capacity, too, is roughly half of what Alliance Bank Stadium holds. Have I mentioned that the War Memorial and Alliance Bank Stadium are both county-owned facilities?
Then what's wrong with this picture?
Let's take another, closer look at the Crunch's scoreboard:
Figured it out yet?
Okay, here are two more hints.
Frontier Field, Rochester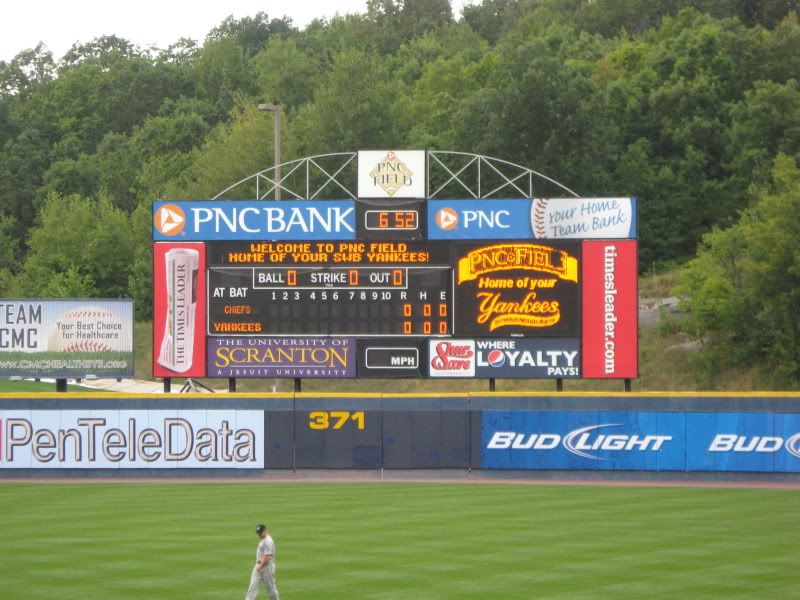 PNC Field, Scranton (which is being rehabbed this coming season)
I'm sure you see my point by now.
Speaking of Rochester's Frontier Field
:
To all the people out there who thought the stadium should have been built in downtown Syracuse, come to a game sometime, then go to an event in downtown.Which location is easier to get to? Easier to locate parking? Easier to leave?
Syracuse isn't like Rochester, with all those huge, open Kodak parking lots near the stadium. I mean, think about parking at the Carrier Dome. Think about all the money the city of Syracuse has to spend on street closures, traffic cops, etc. because of the dearth of parking (altho' I understand that the University is now contributing payment to those costs). Granted, a stadium that holds around 12,000 people isn't going to generate the traffic a facility holding 60,000 will generate, but stuck in traffic is still stuck in traffic. Downtown Syracuse isn't built to handle massive influxes of traffic.
TV Stevie and I went to the Lion King last month. Finding parking was a nightmare. We ended up on the top level of the ONCenter garage. After the show, we sat for half an hour before TV even started the car. (It wasn't wasted time. We listened to a Washington Nationals game on TV's iPhone.)
I like Alliance Bank Stadium right where they built it. Now if only the county would do something about the scoreboard.